Situated on the beautiful Dorset coast, a Weymouth holiday will be full of delights however you wish to spend it. Be it on the stunning
Weymouth Sandy Beach
or enjoying the busy, picturesque
Weymouth Harbour
, complete with colourful fisherman cottages, fishing trawlers and yachts of all sizes - these are the first Weymouth attractions that come to mind but there are plenty more too. Whether you want a relaxing Weymouth holiday sitting on the beach or at the Nothe gardens with your favourite book, or an unforgettable holiday with something different each day, a Weymouth holiday will not disappoint... a beach day, a boat trip or visiting nearby attractions - take your pick. There are so many choices of things to do on your holiday in Weymouth. Weymouth is a town that clearly welcomes tourists, whether its the amusement arcades and donkey rides on Weymouth beach, fish and chips around the harbour or along the beautiful Georgian Weymouth seafront, an evening drink on the harbourside or a visit to one of the many fascinating Weymouth museums (or the many more that Dorset has to offer) by the time your holiday in Weymouth is over, you will be planning what you are going to do on your next one.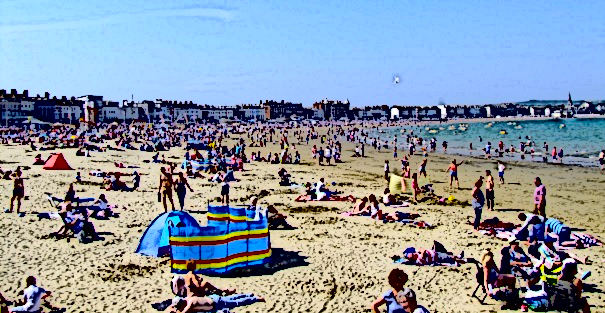 Weymouth has a fine sandy beach and for many, this has to be the best part of Weymouth - its soft golden sands attract thousands each year but its not just the lovely fine golden sands that Weymouth beach has to offer. Weymouth beach ticks every box, beach huts sell everything from a cone of chips or an ice cream to a coffee or a glass of wine whilst all sorts of fun beach goods can be purchased too - all to be enjoyed while taking in the fantastic views out across Weymouth Bay, the Nothe Fort, Portland and the coast towards Lulworth. For things to do in Weymouth with the kids, theres plenty to do on Weymouth beach, from sandcastle building - in the footsteps of the incredibly talented Weymouth sandman to donkey rides and swingboats and there are loads more kids attractions along the seafront too. Beach huts and deckchairs are available to hire and the water is usually calm and crystal clear for those fancying a dip. If you want to get out on the water without getting too wet, why not hire a pedalo to complete the experience?
Whats the best part of Weymouth beach?
Weymouth beach stretches right along the Georgian seafront, past Greenhill Gardens, all the way to Bowleaze coveway. For your best part of Weymouth beach, it will depend on what you prefer - whether its the the often packed, glorious golden sandy beach with its shallow waters at the pier end - or do you prefer the quieter part of the beach, heading towards the old pier and Greenhill gardens? here the sand has turned to shingle and the water gets deep quicker.
Parking at Weymouth Beach - For parking at Weymouth beach there are a few carparks close to Weymouth beach as well as some on-road parking along the seafront.
Other Beaches near Weymouth
Other beaches near Weymouth include Castle Cove beach and the famous Chesil beach, whilst further out are the large beaches of Bournemouth and the famous Sandbanks. There are lots of small, undeveloped and isolated beaches along the coast too.
Just like Weymouth beach, many would argue that the best part of Weymouth is Weymouth harbour. This beautiful and busy harbour is the focal point of many Weymouth holidays, the quaint colourful fisherman cottages and constant to-ing and fro-ing of boats provides that idylic traditional English holiday setting. There is so much to enjoy around the harbour, be it one of the Weymouth boat trips, fun at one of the festivals, fish and chips on the harbourside or just a relaxing evening drink, many, many hours can be spent just enjoying and relaxing around Weymouth harbour. This is not some forgotten about seaside harbour of yesteryear either, Weymouth harbour is still a busy working harbour to this day, with local fishermen going out daily, lots of Weymouth boat trips - cruises, fishing and dive trips, visiting yachts and even a pleasant Weymouth ferry ride to carry you from one side to the other aboard a rowing boat. While today Weymouth harbour is well geared up for the many thousands who work from the harbour or visit Weymouth each year, Weymouth harbour has also had a rich and colourful history through the centuries, be it little ships crossing to Dunkirk, the Black death landing in Melcombe Regis or merchants unloading their goods - like the one who built Tudor House, Weymouth harbour has lots of history to see in the local museums and a visit is well recommended.
Weymouth Harbour Holiday Atmosphere
In the summer, the harbour has a fantastic holiday atmosphere about it, the smell of salt in the air as you take an early morning stroll up the jetty, the taste of fish and chips by the harbourside or the sight of adults and children alike enjoying crab fishing from the walls, this is a pleasant place to be and there are always plenty of happy people enjoying themselves around Weymouth harbour. Many of the summer festivals also take place around the harbour and live music can frequently be heard around the harbour and the nearby Hope Square.
Parking at Weymouth harbour - shouldn't be too difficult either, there are a number of carparks close to Weymouth harbour.
Places to Visit near Weymouth
Weymouth is a seaside resort in the beautiful county of Dorset, which means there will be no shortage of places to visit near Weymouth. There are lots of Weymouth attractions within walking distance of the town centre and many more just a short bus or car journey away. Just a few of the attractions near Weymouth include
Portland
with its famous red and white Portland Bill lighthouse and beautiful walks along the dramatic coastline. Theres Lulworth cove and Durdle Door in the quaint village of Lulworth with some stunning coastal scenery between the two, a little further along is the lovely Wareham Quay and Swanage with its beach, pier and Old Harrys Rocks. The county town of Dorchester has a lovely river walk, shops and museums to visit. There is the bustling town of Bournemouth with its shops, a huge beach and pier and closeby Poole with its huge natural harbour and Brownsea Island. Theres the deserted ghost village at Tyneham - requisitioned in WW2, you can now visit ruins on certain days, Tyneham has been retaken by nature making it a really special place to visit.
West Bay and Bridport
are to the west, while a little further along the coast on the Devon-Dorset border you have Lyme Regis with its beach and stone cobb. There are remote beaches along the coast, picturesque villages, rolling countryside, the Jurassic coast and far too many museums to list. These are a just a few of the places to visit near Weymouth and there are plenty more too, sure to leave you spoilt for choice of things to do on your Weymouth holiday and if thats not enough, the neighbouring county of Devon and the New Forest are on the doorstep, both within Weymouth day trip distance.
Weymouth Museums - a fascinating Weymouth history
Today we picture a delightful sunny Weymouth beach, ice creams or an evening stroll perhaps with fish and chips by Weymouth harbourside, a lovely way to spend your Weymouth holidays, but the history of Weymouth is fascinating too. Museums such as the Nothe Fort, Tudor House and Weymouth museum tell stories of a Roman invasion, a Civil war rebellion, ships leaving the harbour to meet the Spanish Armada, the Black death landing at Melcombe Regis, George the III and his love of the resort, pirate raids, tales of smuggling along the Dorset coast and life in Weymouth in the World Wars. A visit to the Weymouth museums brings all of this rich history of Weymouth to life.